Enhance Your Home with Wood Look Tile in Ankeny, IA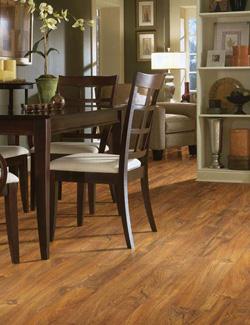 Do you want the look of hardwood floors, but you need a product that is more water resistant? Consider wood look tile! In Ankeny, IA, Flooring America Akeny offers a wide range of floor products that look like real wood. In fact, your guests might not be able to tell the difference. Available in all varieties, our ceramic and porcelain wood flooring products offer the rich character and charm of a wood floor with all the grains and textures. No matter what floor you choose, it effectively elevates the style of any space.
If you're skeptical about tile floors, then you may be thinking of tile from years ago. Today, they come in so many varieties. You can have a high-quality floor that gives your place the same appeal as hardwood and wood plank. Due to advanced manufacturing methods, there are endless possibilities. You'll find a wide selection of tones and textures to suit your needs.

The Ideal Flooring for Pets and An Active Family
Pets are tough on floors. While hardwood is charming, it is susceptible to damage. In addition, wood flooring is easily stained by urine or water spills that are left too long. If you have an active family with young children and pets, wood plank ceramic tile is an ideal choice. It holds up for years and can endure the heaviest foot traffic--both people and pets! It's also moisture resistant and excellent in hot and cold environments.
If cost has become a factor in choosing the flooring you love, consider ceramic or porcelain wood tile. It is competitively priced and provides an impressive look in any home. Even though we have an excellent selection of wood look tile products, those aren't your only choices. We also carry vinyl floors that have the appearance of tile, slate, porcelain, and natural stone. Your options are virtually endless. Let us help you choose the right floor for your needs and style.

Your Flooring Installation Experts!
After you purchase your new floor, let us install it for you. From selection to installation, we are with you every step of the way to ensure your complete satisfaction. We have complete confidence in the services we provide. If you ever notice an issue with the installation of your floor, we'll make it right at our expense. This is a lifetime installation guarantee!


Contact us to find out more about our wood look flooring and installation services. We proudly serve clients throughout Ankeny, IA, and the surrounding areas including Saylorville, Bondurant, Altoona, and Elkhart, Iowa.