The Realistic Beauty of Luxury Vinyl Plank in Ankeny, IA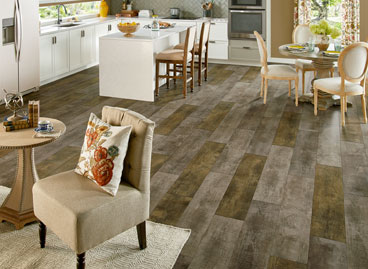 Improve the look and feel of your home with luxury vinyl plank in Ankeny, IA. Our flooring center allows you to explore your interior design options and create unique rooms. Whether you are planning on re-flooring a single room or your entire home, our showroom has the products and resources you need to visualize and implement a successful remodeling project.
Brand-Name Vinyl Plank
Widely revered by homeowners as a versatile flooring option, vinyl wood planks are a smart addition for any style of interior design. Our showroom proudly features a vast selection of vinyl flooring options, with different styles, appearances, and colors from the most trusted brands in the business. These include big names such as:
Naturcor
Spotlight Values
Downs
PURstone
Galvanite
We sell you brand-name flooring because respected manufacturers put their stamp of approval on these floor coverings. They spend time and money enhancing the quality and performance of faux wood vinyl flooring, as well as its ability to mimic hardwood. When you purchase brand names from our showroom, you have the backing of the manufacturer and our local store behind you all the way.
The Arguments for Choosing Vinyl Plank
Vinyl wood plank flooring successfully combines form and function to create a beautiful flooring option that lasts. It graces your home with the grain and gloss of wood and elevates the ambiance of any room. Property owners choose this flooring because it is:
Strong: Vinyl flooring is comprised of composite materials, manufactured in layers to create a strong surface. This combination allows this type of flooring to withstand heavy foot traffic in busy households with ease as it resists dents, scrapes, and scuffs.
Water & Stain-Resistant: The surface of luxury vinyl is non-porous. As such, this flooring material resists water and stains. Due to its resistance to moisture, luxury vinyl plank is a good addition to rooms such as the kitchen, bathroom, and basement. Imagine having the look of hardwood planks in your bathroom. Such a feat is not only possible but encouraged with resilient vinyl plank flooring.
Design-Friendly: Thanks to advances in manufacturing, luxury vinyl plank can mimic the look and feel of wood flooring. This flooring compliments your interior design elements and furniture, offering the classic beauty of wood at a lower price and with easier care and maintenance.
Your Source for Wood-Look Vinyl Flooring
With its design versatility and ease of maintenance, it is no wonder that luxury vinyl plank has become a top choice for active households. This flooring is made to withstand heavy foot traffic and the presence of children and pets.
Our showroom is proud to offer many different vinyl plank options from brand to style to appearance to color. With our huge selection, you can find the right designs to make any room stand out. Our vinyl is so realistic that you get the classic elegance of hardwood but at a lower price.
Have you ever wanted to give your kitchen, bathroom, or basement a natural ambiance, but have reservations about putting wood flooring in them? Now, you can give your space the look of hardwood with luxury vinyl plank. This flooring offers the beauty of wood with the resilience of vinyl.
Our showroom features a variety of interlocking vinyl flooring options that have the appearance of popular hardwood species. No more worrying about refinishing, sanding, or warped planks: vinyl flooring that looks like wood is durable and keeps its appearance for the long run.
We're Here to Help You
Come in with ideas, and leave with a plan. Our flooring showroom has the help and resources you need to coordinate your remodeling project. Staff members are trained and thoroughly knowledgeable in the latest trends sweeping interior design. Plus, they have extensive knowledge about flooring types and merits, as well as brand details. Discuss your needs with our team, and we'll point you in the right direction. We can also coordinate vinyl plank installation services, so your investment will look great and last a long time.
Count on us for sales and service. At our local business, we do more than sell you flooring; we also install it for you. Our staff is more than happy to schedule a convenient day and time for installation by trained technicians. These professionals have the skill and knowledge to lay your flooring following the manufacturer's recommendations, as well as industry best practices.
Choosing quality, brand-name flooring is the first step; proper installation is the second. We know you want your luxury vinyl plank to stand the test of time. Professional installation is the best way to ensure that. You see, flooring that is not installed correctly is vulnerable to damage, which shortens its working lifespan. Walk and live on your faux wood vinyl flooring for many happy years to come with professional installation.

Contact us today to explore your options with luxury vinyl plank. We proudly serve customers throughout Ankeny, Iowa, as well as Saylorville, Bondurant, Altoona, Elkhart, and the surrounding area.