Wide Range of Flooring in Ankeny, IA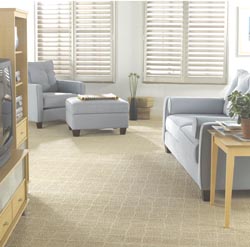 No matter what kind of floor covering you're looking for, Flooring America Akeny is the place to go. From timeless designs to contemporary trends, there's something to appeal to everyone at our showroom. Furthermore, we only carry brands from manufacturers with a proven track record for excellence. Visit us today to explore one of the most diverse collections of flooring in Ankeny, IA.
We offer products suitable for both residential and commercial use. Regardless of what your design goal is, we have a surface to bring your vision to life. Our products include:
Hardwood
Carpet
Laminate
Tile
Vinyl
Area Rugs
Find the Right Style for You
Some people know exactly what kind of floor they want before they step foot into our showroom. Other people have only a vague idea, and a few don't even know where to begin. No matter where you fall on the shopping spectrum, we're committed to helping you find the right style for your project.
Our flooring store is set up to make shopping simple — and even fun. You'll love the various displays set up to give you design inspiration, as well as the careful organization of our products. Furthermore, our team members are always on hand to answer your questions and make recommendations. Talk to us about your personal tastes, practical needs, and price range; we'll point you towards the surfaces that best suit your guidelines.
Professional Installation for Better Results
Not everyone has the time, energy, or skill to install a floor. In addition, some product warranties forbid do-it-yourself efforts because the chances of improper installation are too high. Ensure you're fully protected and that your new surface looks great by hiring us for flooring installation.
Our installers have the training and resources to quickly put in every product we sell. Likewise, they'll ensure all warranty standards are met. With installation from our professional team, your floor will not only reach its full beauty potential but also be well protected from wear and tear.
Get Guidance on Maintenance
While proper installation goes a long way towards extending your floor's longevity, routine maintenance is also highly important. With the right cleaning techniques and upkeep, your surface will look like new long after it was first put in place. Talk to our team to get maintenance advice specific to the flooring brand you chose.
Contact us if you have any questions about our many flooring products or services. We proudly serve clients from throughout Ankeny, Saylorville, Bondurant, Altoona, and Elkhart, Iowa, as well as the surrounding areas.